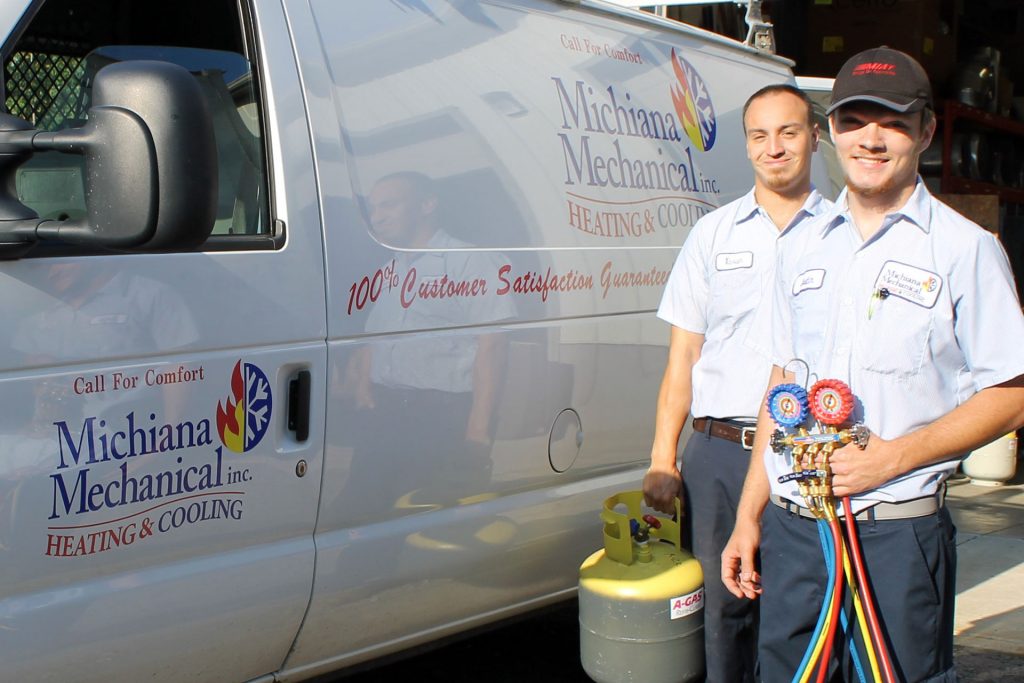 24-Hour Emergency Service Available
24-hour emergency service is available and phone lines are always answered by a person, not an answering machine. For emergency service, please call 219-874-2454 or toll free 800-789-2210.
Our Unique Precision Tune-ups and Safety Inspections
Tune-Ups are important for many reasons. Most importantly, they help keep you and your family safe all year long. Michiana Mechanical inspects all equipment safety features and uses a camera system to look inside your furnace for potentially dangerous cracks which could leak carbon monoxide into your home.
Heating and air conditioning systems require normal maintenance – just like your car. By cleaning the dirt and debris out of your system, it will run more efficiently, save fuel, and reduce late night breakdowns.
Our Precision Tune-Ups on your heating and cooling equipment can reduce your annual energy cost by up to 30%. Your savings will cover the cost of the tune-up, put money in your pocket — and keep your family safe.
Let the heating and cooling experts at Michiana Mechanical bring your heating and Air conditioning systems back into optimal condition.
Residential Service
We specialize in repairing older heating and air conditioning systems, along with today's most energy-efficient models.
Our highly skilled technicians undergo many hours of required and optional training on heating and cooling systems and service each year. This means you will have a very knowledgeable and efficient technician repairing your unit — and looking out for opportunities to reduce your energy cost.
Michiana Mechanical technicians are trained to identify the most efficient and cost saving solutions for you and your home.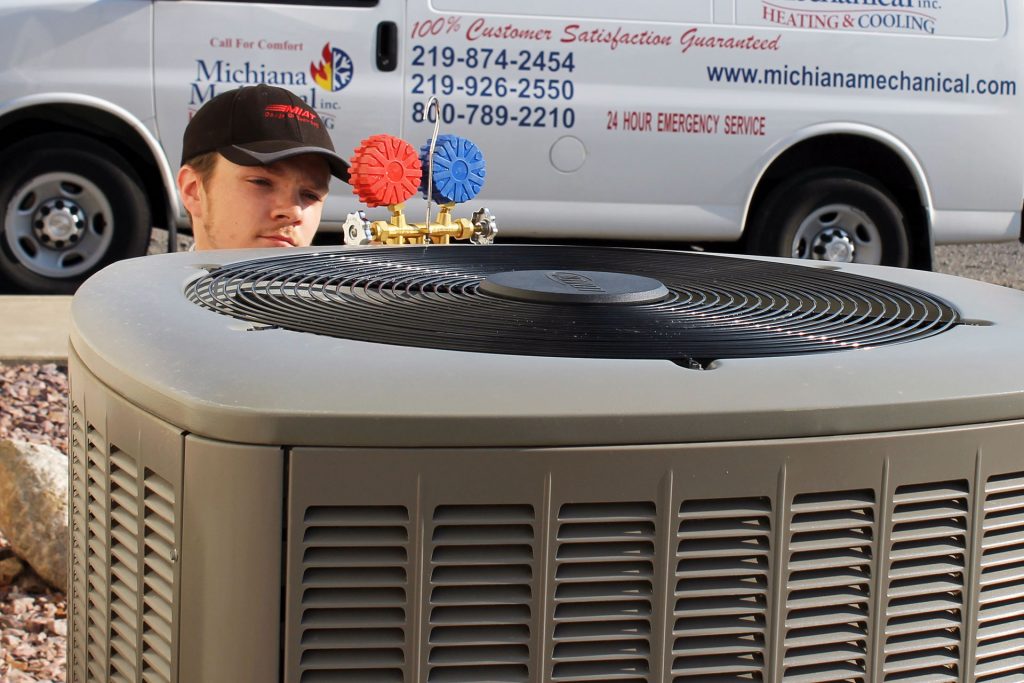 Residential Installations
The installation of a new heating and air conditioning system is the largest energy savings investment you will make for your family and your home. Properly installed furnaces and central air conditioners can last up to 20 years when properly maintained.
When choosing a heating and air conditioning contractor to install your new system, choose wisely. Remember these helpful tips when selecting your heating and air conditioning contractor:
Always request current licensing, insurance, and a list of references.
Call references to ensure customer satisfaction.
Make sure your contractor has NATE technicians and is current in the latest energy technology.
Make sure your contractor is following Federal Energy Star guidelines for your installation so you do not end up with an energy losing system.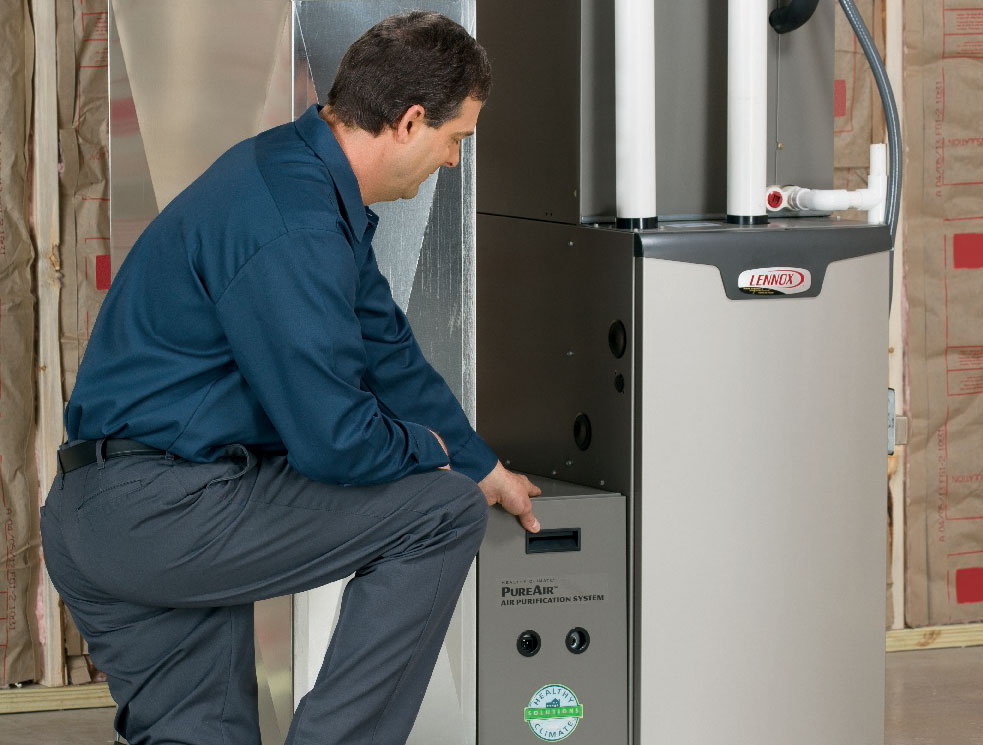 Indoor Air Quality Products
Indoor Air Quality Products – Ultra Violet Lights
According to the Environmental Protection Agency (EPA), indoor air contains more pollutants and contaminants than outdoor air. Our indoor air quality (IAQ) systems and services help you to have healthier air and to find relief from problems with humidity or poor ventilation.
Hot Water Boilers and Radiant Heating
Today's boiler systems are extremely efficient. With some hot water boilers, we are seeing 92% to 98% efficient systems.
If you have a very old boiler – perhaps 20 years old or older – you are probably operating at 55% efficiency or less. This means you could be throwing away 40% or more of your annual heating dollars! That's money going right up your chimney! With today's hot water boilers, however, you can solve this problem!
We have solutions for all boiler applications. If your home has baseboard-type radiators, or you are looking for in-floor heat (such as radiant heating), let us design a solution that works for you.
Seal Ductwork for Efficiency from Air Leaks
In homes with forced-air heating and cooling systems, ducts are used to distribute conditioned air throughout the house. But in typical homes, 20% to 30% of the air that moves through the duct system is lost due to leaks, holes, and poorly connected ducts. The result is higher utility bills and difficulty keeping the house comfortable, no matter how the thermostat is set. Your furnace and central air conditioners have to work much harder at keeping the house comfortable.
Some signs that your home may have leaky, poorly insulated or inefficient ducts include:
You have high summer and winter utility bills
You have rooms that are difficult to heat and cool
You have stuffy rooms that never seem to feel comfortable
Your ducts are located in an attic, unfinished basement, crawlspace or the garage
You find tangled or kinked flexible ducts in your system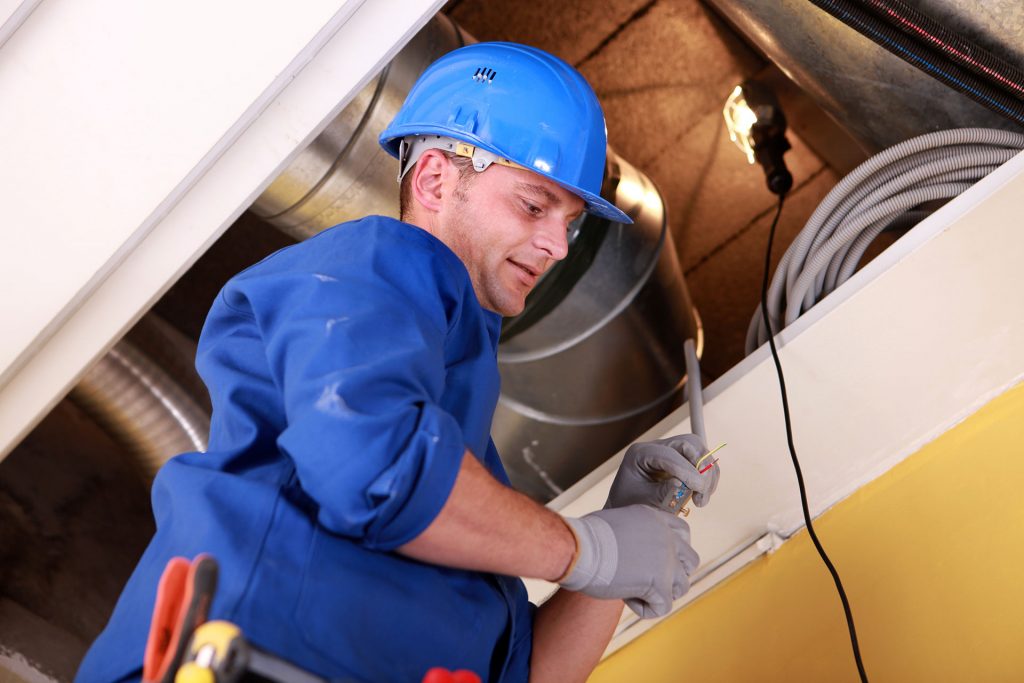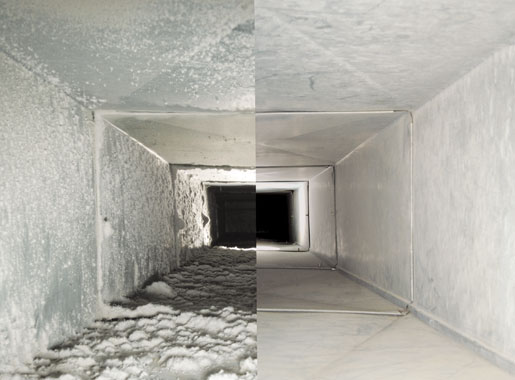 Air Duct Cleaning Service
If you are suffering from allergies and have breathing problems related to the air in your home, there are many health benefits that will come from HVAC duct cleaning.
Heating, ventilation and air conditioning (HVAC) systems have been shown to act as collection points for a variety of contaminants. These contaminants, such as: mold, fungi, bacteria and very small particles of dust will negatively impact your health. The removal of such contaminants from your home is very important in improving indoor air quality and how you feel.
Methods used for air duct cleaning can vary. Making sure that your duct system is cleaned effectively is most important.
How can you determine if the air ducts in your home are clean? The best way is to perform a visual inspection. If any dust or debris can be seen during the visual inspection, the system should NOT be considered clean.
You can perform your own visual inspection using a flash light and a mirror. However, a professional air duct cleaning contractor should have access to a specialized inspection camera that allows for a full view of your system.
The most effective duct cleaning is accomplished by using correctly sized brushes, adequate suction and an inspection camera. A sub-standard cleaning can cause more harm than good so be sure to hire a company that will perform the job correctly and show you before and after photos to prove that your ducts were cleaned. Rest assured that Michiana Mechanical's trained technicians will do the job right!
Comfort Club Memberships Save You Money!
You could be like the hundreds of existing Michiana Mechanical Comfort Club members that are saving money all year long!
Why should you become a Comfort Club member? The answer is not a secret. Just like the hundreds of existing members have learned, you too can save a lot of money! Your membership includes our exclusive Precision Tune-Ups for your heating and air conditioning system. Our Tune-Ups can reduce your annual energy cost up to 30%.
Comfort Club memberships also guarantee appointments, provide up to 25% off maintenance services and provide up to 20% off service repairs. Plus, you'll receive up to 15% off of the purchase of a heating and cooling system, indoor air quality products, air duct cleaning, filters and humidifier pads. Big savings!
Replacement High Efficient Furnace Filters
We carry a lot of filters for your heating and air conditioning system. Do you know what filter is best for you? We can help!
First of all, not all filters are created equal. All air filters are rated in what is called a MERV rating. Let's understand what a MERV rating is…
MERV ratings are used to rate the ability of a furnace or air conditioning filter to remove dust from the air as it passes through the filter. MERV is a standard used to measure the overall efficiency of a filter. Higher MERV ratings mean fewer dust particles and other air borne contaminants passing through the filter.
MERV ratings are from 1-16, measured in microns. Some of the common particles related to MERV ratings are pet dander, insecticide dust, smog, general household dust, viruses, wood, tobacco smoke, germ spores, bacteria and pollen.
Some of the most common filters found in residential use today have a MERV rating of just 1 to 4. These are typically disposable panel-type filters and do NOT do a good job of filtering the air in your home; they will not stop particles smaller than 10 microns.
Filters with a MERV rating of 9 to 12 are a much better choice for residential applications — and WILL stop particles in the 1 to 3 micron range. These filters are a great choice for homeowners who want the best duct control possible.
When using filters with MERV 9 ratings and above, it is important to clean or replace the filters (as recommended by the manufacturer), because they will have a negative effect on air flow when they become dirty. This can lead to performance problems and decreased operating efficiency of heating systems or central air conditioners. So make sure you always have clean air filters for your health and for the ongoing health of your home heating and cooling system.
Carbon Monoxide Testers
Known as the "silent killer", carbon monoxide is a colorless, odorless, tasteless gas that kills thousands each year.
Everyone should own a carbon monoxide detector, especially if you operate a gas furnace, gas water heater, gas stove, gas fireplace, or a gas dryer – or basically any gas burning appliance.
All gas burning appliances have the possibility of emitting carbon monoxide gas. Michiana Mechanical sells carbon monoxide detectors with a five-year life, valid from the date of activation. Our carbon monoxide detectors can be properly tested with a carbon monoxide gas test kit. These test kits will help ensure your family's safety.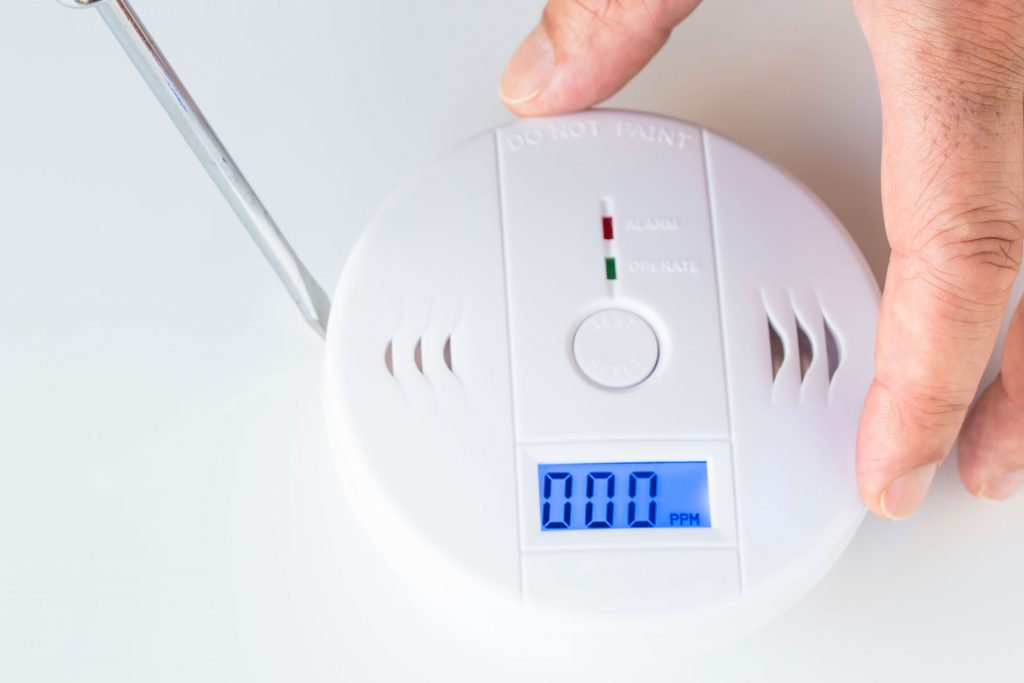 Replacement Humidifier Evaporator Pads
To ensure proper moisture in your home and the continued operation of your whole-house humidifier, regular changing of humidifier evaporator pads is required.
Michiana Mechanical stocks standard humidifier evaporator pads for whole house humidifiers. We have what you need in stock today!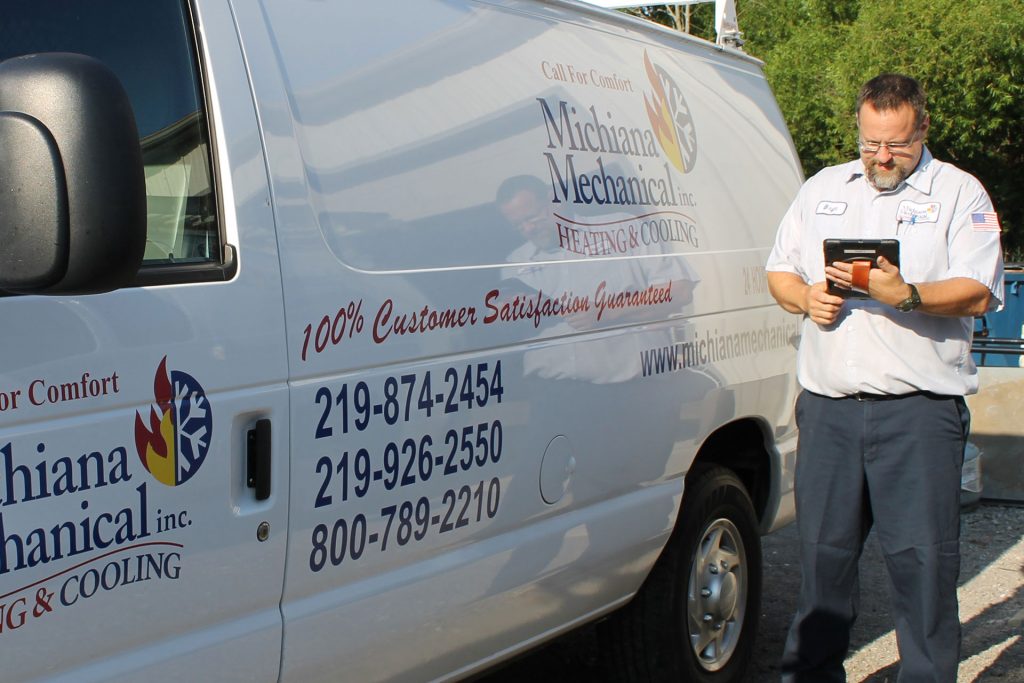 Free Energy Analysis and Evaluations For New Equipment Installations
Michiana Mechanical has always offered FREE estimates on new heating and cooling system installations.
We also offer a FREE Energy Analysis and Return On Your Investment (ROI) Calculations too!
Through these analyses, we are able to show how much money and energy your new furnace and air conditioner will save you each year, along with how soon your system will pay for itself.